We all have known the fact that India is the only place where different kind of people exists peacefully with different temple. But do we know that there are some places in India that have spooky and horrifying temples? Lets read about them in detail.
1.) Devji Maharaj Temple
A ghost fair begins every year on the first full moon of Makar Sankranti, 42 km from Betul district of Madhya Pradesh. This month-long fair is held in Malajpur village. It reaches people from Maharashtra, Andhra Pradesh, Rajasthan and many other states including Madhya Pradesh.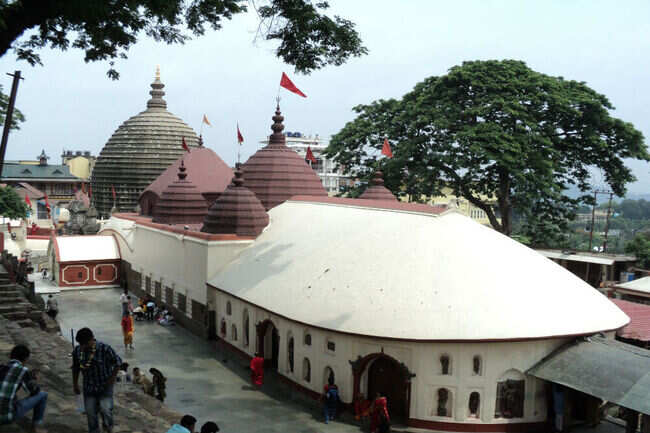 Why do people come here?
This 'Bhoot Mela', held in the 'Devji Maharaj Temple', is organized to remove evil spirits and exorcise the ghosts. Thousands of people come here. In today's scientific age it can only be called superstition, but people here stand in long hours to remove ghosts.
How exorcism is done?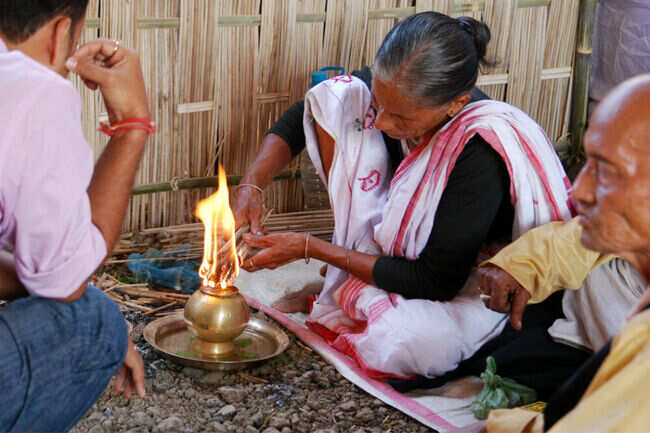 This festival runs from Paush Purnima to Basant Panchami. Thousands of people come here during this period. After the evening worship, the people revolve around the temple. People who are normal, revolve in a straight direction, and those who are possessed by ghosts, walk in the opposite direction.
Together everyone continues to say 'Guru Maharaj ki Jai'. Sacred water is also sprinkled along with chanting the mantra. Some people who come here burn the camphor and also keep it on their hands. Some people also dance. It is said that these are people who are possessed by ghosts.
Jaggery is weighed …
It is believed that if the problem of people is solved by coming here, then they come back here and offer jaggery. They are weighed with jaggery and the weight equivalent to them is donated. Due to this custom, a lot of jaggery gets deposited here, which is distributed as prasad. Even after collecting so much jaggery, it does not appear to have any type of insect, ant, or fly. People consider it a miracle of Guru Sahib Baba.
History of this temple
This fair has been held for many years. This temple has the tomb of Guru Devji, who is worshiped in the evening every day. Guru Devji, born in 1700, was a Rajput and is believed to have miraculous powers. He used to convert sand into sugar and soil into jaggery.
Such a saying is heard that once a drought occurred, he had heaped grains for people here with his power. Since then, everyone started considering them as miraculous men. He took samadhi at this place. After his death, his tomb was built here and since then this fair of exorcism started happening here.
Address: Devji Maharaj Temple, Betul, Madhya Pradesh
2 Mehandipur Balaji
There are many temples and religious places in our country that have many secrets and miracles hidden. One of these temples is the temple of Mehandipur Balaji. This temple is located in the Dausa district of Rajasthan.
Respected son of the Lord Wind The mighty Lord Hanuman, the 11th incarnation of Lord Shiva, was born on the full moon of Chaitra month. This day is celebrated in the name of Hanuman Jayanti all over the country. It is said that many kinds of sufferings are removed by taking his name only. In this way, there are many famous temples all over Rajasthan where many people's wishes and diseases are overcome.
It is said that in this temple, Hanuman ji also removes problems like possessions in humans.
People come to this temple to get rid of the black shadow and phantom barrier. Here, to free the spirit from the body, he is punished with harsh punishments. Seeing this, people also get some chilly chills on their spines.
Attached to the temple is a small hole, on the left side of the chest of Mehndipur Balaji from which the water flows. In this temple three Gods reside, one is Balaji himself, second is Pretaraj and third is Bhairav who is called Captain.
In the Balaji temple, Balaji is offered laddus, Pretaraj with rice, and lord Bhairav with urad prasad. It is said that as soon as Prasad's laddoo is eaten, the ghost inside the person suffering from the phantom barrier starts splashing and starts doing strange things.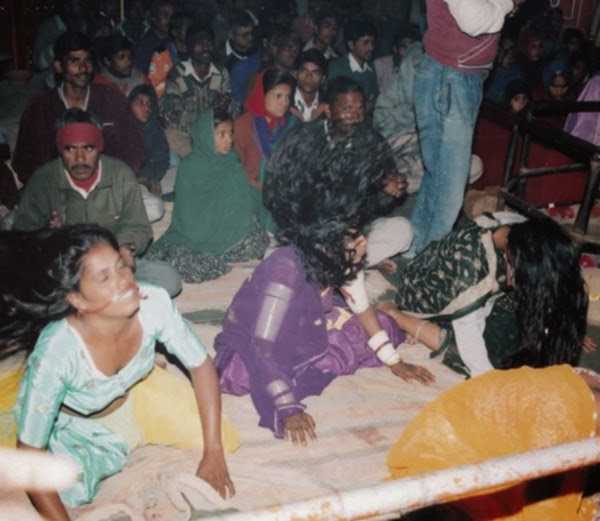 There are some strict rules for those who visit Mehandipur Bala Ji. Consumption of garlic, onion, egg, meat, alcohol has to be stopped at least one week before coming here.
Usually, after worshipping the Lord in the temple, people come home with prasad and other eatables, but never ever should forget the fact that from the Mehandipur Balaji temple, they may only bring Prasad home and should not take other eatables outside that place. By doing this, you can be haunted. The offerings offered here are called Darkhavast and application.
If you go to Balaji, then you should join the Aarti in the morning and evening and take the aarti. This helps in the liberating of the diseases and protects your body against upper vertigo.
Let's know the history of this temple and its beliefs …
It is said that this temple is about 1 thousand years old. Also, in a very huge rock here, the figure of Hanuman ji emerged on its own. This figure is considered to be the form of Hanuman ji.
The temple of Balaji is so divine to get rid of the power of the evil spirits and is considered to be a very powerful temple of Hanuman ji. When the Aarti takes place in the temple in the evening, people suffering from ghosts can be seen battling easily here.
It is said that there was a thick forest in Mehandipur and wild animals were inhabited all around that place. At the same time, the terror of thieves and bandits also spread in the village around the temple. Baba Mahant ji, ancestor of the temple saw a dream one day and amidst the dream, he woke up in his sleep.
At this stage, Baba saw that thousands of lamps are burning from there and Balaji Maharaj, Shri Pretaraj Sarkar, Shri Bhairav Baba were coming with the army of elephants and horses. He bowed to all the gods and saw the whole scene standing there. The path through which the army came also went ahead. After all this, he walked towards his home and tried to sleep, but he kept thinking about ​​the dream again and again.
After some time he became sleepy. When he fall asleep, he also saw a huge temple with those three idols and an invisible voice started coming in his ears, someone was telling him, son, get up and take the burden of my service, and worship me.
I will do well for Kalyug. Gosai Ji Maharaj did not pay attention to it. Later Balaji Maharaj himself appeared and said that establish me here and worship. . As soon as he woke up from that dream, the idol came out from there.
After this, Maharaj told the people nearby about his dream. Some people established a small temple there and also made arrangements for enjoyment, due to the miracles started happening there.
Some hypocrites and evil people considered it a hypocrisy (as usual, maybe they were secularists ). Baba also made the king aware of the whole incident. The king too felt some art, and the king refused to believe it. Due to this, the idols went back into the ground and became invisible. The king excavated the place, but idols were not found. After this, the king considered it a miracle and apologized to Baba.
This made all people recognize the power and apologized to him. The idols then reappeared after considering the apologies of the people and the king.
There is a hidden secret of the temple that a continuous stream flows continuously from the hole near Balaji's heart, this holy water is splashed at the devotees and it is considered to be the blessing of Balaji.
Assuming the burden of worship the king ordered and built a huge temple of Balaji Maharaj. Mahant Ganeshpuri Ji Maharaj served Balaji till old age. Later he took samadhi by Balaji's orders and prayed to Balaji at the last moment, May my descendants worship you further.
Since the establishment of the temple, only Maharaj's family is serving. So far, 11 mahants have served here since 1000 years.
3.) The Bhangarh Gopinath temple
A desolate fort over time, but its walls are filled with history, beliefs, and rumors all of which are scattered. This fort changes its color in every season. Its desolation scares in the scorching summer, and so after bathing in the raindrops, it covers the entire land with its sheet of greenery.
The reason for the strange thrill of seeing these desolate ruins scattered in the lap of Aravalli is probably because it is considered a haunted city based on prevailing beliefs.
On one side, completely surrounded by hills and desolate for miles, this ancient city may be considered cursed, but in the desolation of its ruins, the mesmerizing beauty dwells. The reason for this hypnosis may be the greenness of the thousands of Kevda trees(Pandanus tectorius) and the smell emanating from them among the demolished buildings. Because when the strong wind blows, the smell of kevda in the whole atmosphere makes the atmosphere more mysterious.
The terraces from the two-storey jeweler market located right in the middle of this fractal city have departed its time, but it can be easily felt that when this market was buzzing with its full aura, exactly how would it be seen like? Just beyond my imagination.
The name of this desolate immersed in the whirlpool of legends is 'Bhangarh of ghosts' for those living nearby. It has been hundreds of years, hardly anyone could dare to stay overnight in Bhangarh. It is said that once an Englishman stayed with one of his forest workers to know the reality of this stronghold at night and both met dead in the morning. Since then, the government banned the stay of anyone in Bhangarh at night by putting a notice board.
After going through the history, it is known that the capital of Bhangarh was settled with the total of nineteen villages. In 1573, the king of Amer Bhagwant Das built the fort here and made his son Madho Singh, who was the younger brother of Navratna Mansingh of Mughal Emperor Akbar, with the consent of Akbar. In this, the twelve villages were won by fighting Meenas.
It is said that Madhosingh participated in the battle of Haldi valley on behalf of Akbar, in which he was also injured. Madho Singh died in a battle of 1630. Madho Singh's son Chhatrasinh was also killed later in the war with the Mughals along with his two sons Bhimsingh and Anand Singh.
After this, his son Ajab Singh started living there by building the fort of Ajabgarh. It is said that in the famine of 1783, Bhangarh was completely destroyed.
4.)Dattatreya Mandir

This is Dattatreya Mandir of Gangapur located in district Betul of Madhya Pradesh, India. One of the scariest and haunted temples in India. The deafening silence here is only broken by the screams of people who come for exorcism.
Here are 5 creepy facts you didn't know about this temple:
Usually, people arrive here because of a major problem and ie possession during the new moon and the full moon days.
People usually gather here for the 'Mahamangal Aarti ' which starts at 11:30 am during which people can be heard shouting, screaming, and hurling abuses at the Gods, believing that evil spirits are within them.
Possessed people try to crawl over the temple and its ramparts. Seeing all this too brings a special chill to the bones.
These people scream a lot when the possessed spirit let go of their body. The liberation from the possession.
It's said and believed that after taking the darshan of the mahamangal aarti the person finally gets freed and is free to go home.
5.) Sharada Dham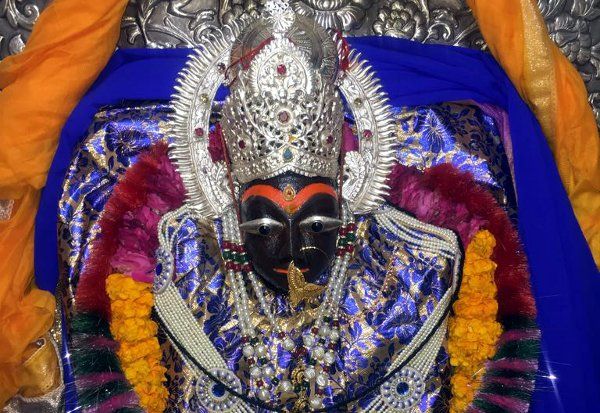 Sharada's mother gave Alha the boon of immortality, the team of scientists has come to know the secret, the temple of mother Sharada, included in 52 Shaktipeeths.
Satna. There are temples of many deities in India. Many of whose ancient beliefs are also connected. One such temple is located near Maihar in Satna district. 5 km from Maihar Nagar. The mother residing on the Trikuta mountain is called Sharada Dham. There is a grand temple of Mother in the middle of the mountain top. There are many ancient stories about this temple. In which Alha's name comes first.
It is said that Alha-udal was given the boon of immortality by the mother. Therefore, the importance of Sharda Maa temple increases further. Ancestors state that, every night, two Chiranjeevi's, named Alha and Udal, visit the Maihar temple.
You may also like Xiaomi's New Product Launch Mijia Scooter(Electric) 1S
Challenging Muhammad Gauri:
Two brave warriors, brothers Alha and Udal, lived 800 years ago. Who fought with Prithviraj Chauhan and also challenged Muhammad Gauri. Alha, the elder son of Daksharaj and Deval Devi, is considered an incarnation of Yudhishthira in mythological traditions. They were born in the feudal period.
The blessings of immortality
This shows that Alha was the first to discover the temple of Mother Sharda Devi amidst the forests. After this, Alha pleased the goddess by doing austerities in this temple for 12 years. Mother was pleased and gave him the boon of immortality. It is said that these two brothers had devoutly offered their tongues to Sharada mother, which was returned by Mother Sharda at that same moment.
Alha used to call her sharda mai
He called her Sharada Mai and since then this temple also became famous as Mata Sharada Mai. Even today, it is believed that Alha and Udal are the first to see Mother Sharda every day. Experts say that the mother's first adornment is still done by Alha and when the doors of the Sharda temple are opened in the Brahma Muhurta, the rituals have been already done.
A team of scientists also tried to resolve the mystery of the first thing about performing ritual which is famous all over the country. Therefore, a team of scientists were camped there too but were unable to unravel the mystery so the story is still intact. Even today, Alha's first makeup is seen to the worshippers of mai. People around such Maihar say although it is a dental story. But nobody makes claims.
The brothers fought wrestling
There is a pond under the mountains behind the Maihar temple. After going 2 kilometers further from the pond, an arena is found, about which it is believed that Alha and Udal used to fight wrestling. The pond behind the temple is called Alha Talab.